Recently I caught up with former Miss Ireland Rebecca Maguire to find out her top beauty tips.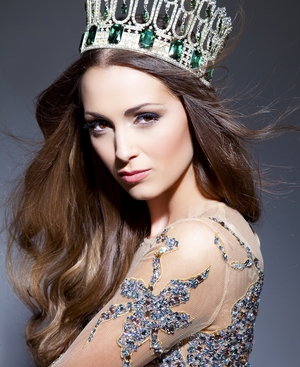 (Rebeccas official picture for Miss Ireland) The Belfast born beauty won Miss Ireland in 2012 and has continued with her studies in  Queens University where she is studying pharmacy. Rebecca has absolutely gorgeous olive skin so I was dying to find out her beauty secrets.
1.Firstly , how do you maintain your gorgeous complexion!?
Well I don't know how I maintain my complexion! But I always take my make up off as soon as I can and give my face a break. When I can get away with it, I don't  put make up on.
2.What is your favourite Cosmetic Brand?
My favourite brand would be make up forever! I only really have their products beside a few things. I just think its all great quality!
3.What are the top three products you couldnt live without!?
My top 3 products are my foundation. I use Clinique super balanced it's very light and makes my skin look great! I also love illamasqua eyebrow cake! And thirdly I love Mary Lou highlighter by make up forever! You can use it as a highlighter and even an eye shadow base too!
4.What is your signature scent!?
My favourite scent at the minute would either be Jo Malone or chance by Chanel.
5.Have you got one top model beauty tip you could share with us!
I think it's important to have great brows they define your face so much and I love them big right now! So put the tweezers away and embrace the brows! I love to treat myself to a HD brow treatment
(Catwalk queen Rebecca)